"Deep Stone Lullaby is the most gorgeous piece of game music that you've never heard," wrote PC Gamer's Tim Clark back in 2021. The "melancholy slice of sci-fi magic" was tucked away inside the raid for Destiny 2's Beyond Light expansion, one of the multiplayer shooter's end-game activities that the majority of players never fully experience. Hardcore fans still celebrate the track and its foreboding reticence, at one point crescendoing in anticipation of the future only to skeptically retreat before the end. Think a Halo song composed by Radiohead. The lead composer for "Deep Stone Lullaby," Michael Sechrist, was one of the many people who were just laid off at Bungie yesterday.
Why The Hot New Redfall Gameplay Trailer Left Us Feeling Cold
Reactions to Bungie layoffs
We still don't know exactly how many staff were cut from the critically-acclaimed studio on October 31, or why Destiny 2's upcoming The Final Shape expansion was delayed from February 2024 to June. Bungie won't say, leaving those concerned to scour social media for goodbye posts to get an approximate headcount. Studio leadership assured staff last year there would be "absolutely no layoffs" and nothing "major" in terms of restructuring after it was acquired by Sony. Yet longtime art lead Lorraine McLees was one of those laid off. "Tenure was no shield," she shared on X (formerly Twitter). Michael Salvatori, the veteran Bungie composer whose time with the studio goes back to even before the 2001 release of the original Halo: Combat Evolved, another.
For a live-service shooter like Destiny 2, where players spend hundreds of hours living in the world replaying old missions and story beats, it's difficult to convey just how impactful and lasting the music can be. There are tracks in the game composed by Salvatori, Sechrist, and others that immediately remind me of specific points in my life, ones that have long-since passed but which I can occasionally reinhabit, if only for a few seconds, by hearing the music in Destiny. That's what happens when you've played more than 1,000 hours of a game over nearly 10 years.
Salvatori's departure yesterday was kind of an "oh shit" moment for fans, shifting the tone of the discussion away from just mourning the cuts at a beloved studio to worrying about the future of a game they've built together with it. The composer had been involved in every expansion since Destiny launched in 2014. How could he not be there to see it through with its climactic showdown next year in The Final Shape? What would it mean for the future of Destiny 2? And why not be ready to give players these types of answers ahead of time?
It starts to all make it feel like it wasn't exactly planned this way. And to play Destiny for thousands of hours year after year is to believe, at some very deep level, that the people making it have a plan. Bungie has learned a lot about making a live-service game and one of the things it's mastered is how to make it look like they're always several steps ahead of the player, leading them through a grand maze like Theseus on his way to slay the Minotaur.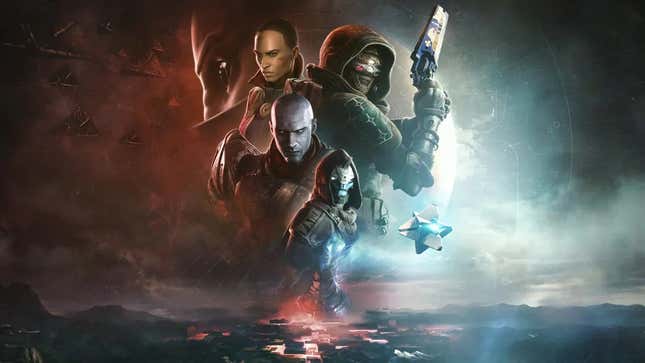 Perhaps the latest snag on Bungie's decades-long journey from independent studio to Microsoft-owned back to independent studio then to Sony-owned might have been communicated differently if some of its community managers and communications people, those tasked with being the face of the studio for players, hadn't also been suddenly laid off. Salvatori and Sechrist's last messages to the world simply say "gone fishing," and the only external communication about the situation was two posts by CEO Pete Parsons calling it a "sad day" and thanking the employees for their "enormous" contributions to the studio before they were sacked. The replies to that post have been brutal.
The future of Destiny 2
Fans aren't taking the news well, either. The cuts and delays come during one of Destiny 2's most disappointing years to date. February's Lightfall expansion felt messy and incomplete, with huge story beats relegated to short animated sequences and lore drops in later seasons. The game has been hounded by technical issues as well, with an unusual number of outages as the servers go down for error maintenance and key items are removed from the game so they can be patched. The rise in microtransaction prices and the amount of them sparked a major controversy over the summer as YouTubers debated boycotting the game.
It was only in August, after Bungie's annual showcase that revealed some of what players can expect in The Final Shape, that morale improved a bit. Game director Joe Blackburn promised a strike team to address the game's floundering PvP mode, a free round of cosmetic armor, and other improvements to quiet some of the backlash. The cuts and delays have reset all of that, with players now wondering what will happen in season 23, which begins November 28 and now seems poised to last until June, making it one of the longest on record. And the timing of a big reboot live service reboot from seasonal updates to individual "episodes" now also seems up in the air.
More than anything, the bad news has renewed players' general concerns and questions about what Bungie actually has planned for the future of Destiny 2. The studio has been cagey about what comes after The Final Shape, though it has repeatedly stressed that the game will continue. It's also hard to see how Bungie ramps up on other projects, like TK DESCRIPTION Marathon or new, unannounced IPs, without pivoting at least some of its focus off of Destiny. In the absence of any clear of what's going on, some players have even started canceling their pre-orders for The Final Shape.
Destiny has always been a game about hope and the promise of a better tomorrow. Going back to the game's original launch, the prospect of continued iteration, improvement, and transformation was what kept players hanging around. Even when things were bad, they wanted more than anything else to believe that it could be good again. And often it was. Hopefully this time ends up being no different.